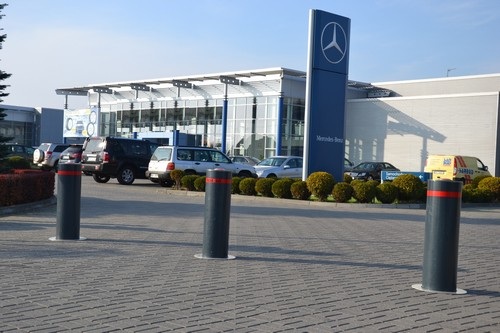 - High security panel system with small rectangular apertures
- Difficult to cut and climb by unathorized individuals.
- For prisons, detentions, military , electricity and power plants and all area with highest security protection required.
- Meshing dimmensions: 12,7 x 76,2 mm.
- Wire diameter: 4 mm
- Long-term anti-corrosion protection

PROTECTOR High-Security Mesh 358 is widely specified by prison and military establishments, and authorities wishing to protect assets which have a significant strategic importance. It is also frequently used in schools, parks, leisure and recreational areas as well as retail and commercial buildings. PROTECTOR Mesh provides a pleasing appearance and excellent security.

Anticorosion protection:
- Heavy hot dib galvanizing acc. To ISO En 1461
- Delicate sandshooting of the surface for better powder reception
- Polyester powder coating to any standard RAL number.

Technical data:
Eye dimmension: 76,2 x 12,7 mm.
Horizontal wire: fi 4mm .
Vertical wire: : fi 4mm .
Panel width: 2500 mm.
Panel height: 1200 up to 6000 mm (3000mm in one piece)
Posts:
60 x 60 x 3.
80 x 40 x 3.
80 x 80 x 3.
120 x 60 x 3.
Post diameter depending on the fence height.Various types of finishes for monatage.
Gates to match the system:
Security gates to match the system (sliding on ground track and free-caryying) or hinged gates with PROTECTOR infill, avalaible in all standard and custom made dimmensions.