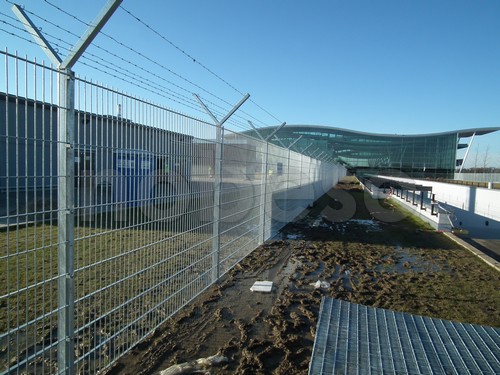 A professional fence system that provides both high rigidity and security.
- Security mesh panels system with small rectangular meshing
- For prisons, detentions, military, electricity and power plants and all area with highest security protection required.
- Meshing dimmensions: 50x200 mm.
- Wire diameter: double wire 8 mm and single wire 6mm
- Long-term anti-corrosion protection

Security Weldmesh 358 is widely specified by prison and military establishments, and authorities wishing to protect assets which have a significant strategic importance. It is also frequently used in schools, parks, leisure and recreational areas as well as retail and commercial buildings.
Anticorosion protection:
- Heavy hot dib galvanizing acc. To ISO En 1461
- Delicate sandshooting of the surface for better powder reception
- Polyester powder coating to any standard RAL number.
Technical data:
Welded mesh with horizontal double steel bar type 868
mesh size: 50 x 200 mm
vertical round wire: fi 6 mm
horizontal double steel wire: fi 8/8 mm
panel width: 2500 mm
panels height: 430 - 2630 mm
Steel posts with rectangular section with double steel bar welded mesh.
Post diameter depending on the fence height.
Welded mesh projecting at the top and cranked at 45° (anti-climbing device) avalaible optionall.
Various types of fittings for adjustable montage to post, for steps and corners.
Gates to match the system:
Security gates to match the system (sliding on ground track and free-caryying) or hinged gates with 868 Weldmesh infill, avalaible in all standard and custom made dimmensions. Gate with welded mesh fence fittings permit reliable and functional connection to all other products.