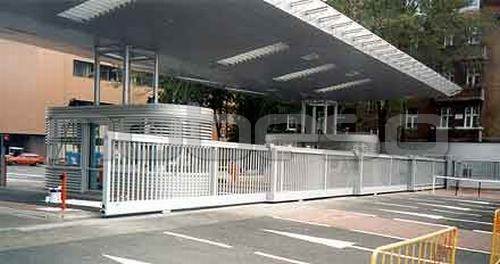 The telescopic type gate is a solution used, when there is not enough backrun space on the property for installing a standard cantilever sliding gates. Telescopic gate requires very less back-run space area. It can be installed almost everywhere, and built a high security automated system. Access Control can be used in many options. We deliver telescopic gates to private possessions, but also for military bases and industrial terrains. Modern design and technology used, make it our bestseller in Europe and Asia.

Specification:
- Type: STTG
- Construction: made of RHS square or rectangle sections, various sections depending on statical and construction requirements. Each gate is bespoken with the customer. A professional technical drawing is being supplied.
- Track Type: tracked with bottom rail S10, S20 or higher type
- Leafs Number: from 2 up to 15 leafs (higher to be bespoken)
- Clear Opening: up to 60m, (higher to be bespoken)
- Gates Height: up to 6m, (higher to be bespoken)
- Automatic Drive: Siemens electric motor 230/380-440V, 50-60HZ, chain/sprocket drive system, high intensive use up to 100% , motor top or bottom installation depending on the requirements
- Automatic Drive power: up to 5KW depending on the gates size
- Automation Controller: high class PLC controller with inverter if required or standard control unit, service partners all over the world
- Limit Switch: inudction type
- Surface Protection: hot dip galvanized, cleaned with sandblasting and powder painted to a chosen RAL colour.
Options:
- electrical fence installation
- razor wire, concertina on extensions in gate axis or Y-extensions
- dragon tail on top 30mm or 50mm
- safety equipement (rotating warning lamp, photocoells, card reader, code operator, induction loop, safety buffer, key switch, pushbutton switch, warning horn, emergency STOP, remote controls, semafor warning lights) *reflective warning tape
Photo Gallery
Video