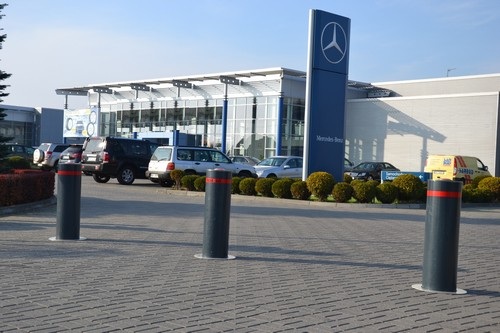 - High emergency impacts
- Rising or fixed constrcution
- Made of highest steel grades, wall thickness 25mm
- Short operating times by rising bollards
- Long-term anti-orrosion protection

blocking bollards are being operated world-wide for perimeter securing of areas like pedestrian areas, parking lots and access roads. In the extended position both through and parking traffic are reliably held back while pedestrians and cyclist pass unhindered. Bolards designed to block vehicle access into restricted areas while operating in a safer, quieter and more reliable way than other types of blockers.
blocking bollards can be installed as single unit or in row operating together(as one construction).

Technical Description:
- Electro-hydraulically power-operated
- Single or multiple units in row with one common drive unit
- Standard blocking height above surface level 800 mm or 1000mm
- Standard diameter: 135mm, 275 mm or 225 mm
- Robust construction with high impact resistance
- Accident protection: reflective warning tape, flashing warning lights, light beams, integrated warning lights
- Bollard of steel tube steel, galvanized plus layers of pwder painting, fi 135 mm, fi 225 mm, fi 275 mm
- Impacts from 40kN up to 180 kN

Avalaible models of blocking bollards:
1. Rising blocking bollard (with gear motor for automatic operations)
2. Fixed blocking bollard